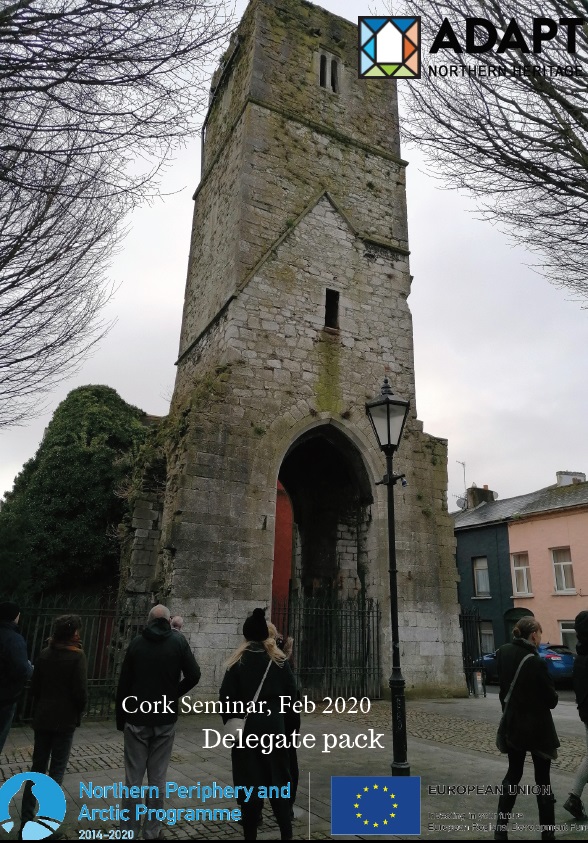 Adapt Northern Heritage is another project supported by the Interreg Program for the Northern Periphery and Arctic region. The project supports communities and local authorities to adapt northern cultural heritage to the environmental impacts of climate change and associated natural hazards through community engagement and informed conservation planning.
We were very pleased to be invited to a one-day seminar held at the historic Nano Nagle Place in Cork city. The seminar focused on looking at the climate change adaptation of Cork's historic places and was organised by Historic Environment Scotland as lead partner of the project.
The seminar began with a meet and greet, where the people attending got to have a chat over a cup of coffee. We were then given a warm welcome to the event by Rebecca Bain and Vanessa Glindmeier of Historic Environment Scotland.
We were given a background on the Adapt Northern Heritage project and its demonstrator sites and were given the opportunity to pass around some of the publications from the project.
We were then given the chance to visit a local case study, The Red Abbey Tower, situated across the road from Nano Nagle Place. It was a cold yet sunny February morning and it was a treat to get to examine a place that is part of the fabric of the city and is the only structure in Cork that has survived since medieval times originating as an Augustinian friary in the late 13th or early 14th century. As a site it had a colourful history from its use as a sugar refinery in the 18th century to being enveloped by housing during the 19th century.
After we returned from our brisk adventure and had a very tasty lunch, we looked at the Red Abbey as a case study and in our respective groups we undertook a risk management assessment. Using a ranking system, we aimed to identify adaptation options for our case study. We looked at hazards, conservation challenges and environmental drivers first and noted our observations in our seminar workbooks. As groups we then attempted to define and prioritise the risks highlighted as well as timelines by the prior exercise.
The overall experience was very interactive, informative, educational and socially engaging. It was a great opportunity to learn more about the great work being done by Adapt Northern Heritage, but it was also a fantastic networking prospect to meet like minded individuals and groups working in Cork city.